Help a great cause and get in shape doing it
Poker Ride for Life - August 6, 2005 - click here for more information!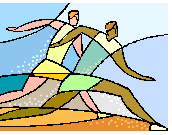 In the year 2000, over 7600 men were diagnosed with Testicular Cancer – almost 400 of them died, but didn't have to. TC (Testicular Cancer) is the most common cause of cancer in young men between the ages of 15-34. However, caught early, it is almost 95% curable.
Even with increased awareness of Testicular Cancer (Lance Armstrong, Tom Green, and Scott Hamilton are a few well known celebrities that have had TC), the rates of this cancer are still on the rise. Unfortunately, most men are embarrassed to talk about problems that they have "down there", or are unaware that they could get cancer at such a young age.
Scott Hamilton, 39 year old world famous ice skater, talked about his bout with testicular cancer on Dateline NBC. He has overcome the cancer, but it has been tough. And what we know from all cancers is that you have a better chance to beat it the sooner you learn about it. So, how come we don't tell young men most impacted by it, those 15 to 40, of how to detect it? There isn't any program in any high school that teaches boys how to test for it. Chico State University student health department were misdiagnosing it up to three years ago. Lewis & Clark College in Portland, had a hanger in ever shower informing everyone how to test for breast cancer. Not one shower could anyone find the same thing for men on testicular cancer. And, the American Cancer Society provides these water proof cards free of charge.
While it only kills around 400 young men a year, these brothers, sons, boyfriends, and friends probably would not have died if anyone had the guts to teach them how to test for it. It should be in every gym program. Its diagnosis should be taught in all school health programs. And, young men who were born with an undescended testicle should be informed, from the start, that they are at greater risk.
Detection

It is among the easiest to cure when detected early. However, in early stages testicular cancer may be symptom less. When symptoms do occur they include: Lump about the size of a pea on one of the testicles, epididymis or vas, enlargement of a testicle, heavy sensation in groin area or testicles, dull ache in abdomen area. If you find a lump or have any of the above symptoms, see your doctor immediately for an accurate diagnosis.
A once-a-month simple self-examination can help catch this cancer at its early stage.
The only ones who die from this cancer are the ones who didn't know they should do a monthly check, or knew and didn't do it. It's a shame to loose anyone to this disease. But who will tell them how to protect themselves?
The NCAC is a group of volunteers dedicated to awareness, support and education for young men facing with, and surviving testicular and other cancers. With support from the Lance Armstrong Foundation, the NCAC performs awareness programs, and raises funds for cancer research, education, advocacy and support programs for cancer patients, survivors and family members.
Jeff Wood - Co-founder and Chairman
Jeff Wood is a cancer survivor having been diagnosed with testicular cancer at the age of 36 in 1999. After having surgery to remove the tumor, Jeff was on surveillance when in May of 2001 was diagnosed with a recurrence when a tumor was found in the lymph nodes of his abdomen. On the day after Memorial Day 2001 Jeff started the first of his 4 cycles of Chemotherapy to treat the tumor. In November 2001, Jeff had major surgery to remove the remainder of the tumor and lymph nodes near his Aorta. Now more than a year later Jeff is cancer free and anxiously awaiting his "5 year" mark.
Seeing a void in awareness programs for testicular cancer in Northern New York State, Jeff and his brother Steve co-founded the NCAC - a group of men dedicated to bringing awareness and support to young men facing the toughest challenge of their lives.
Steve Wood - Co-founder
Steve Wood is a cancer survivor having been diagnosed with testicular cancer at the age of 29. After surgery to remove the tumor, Steve had months of radiation therapy to treat the cancer that had spread to some of the lymph nodes in his abdomen. In September 2002 Steve passed his "5 year" mark - the point when most cancer patients are considered 100% cured.
American Cancer Society - Relay for Life - Watertown NY
June 10th and 11th - 2005 - Fairgrounds - Coffeen St.
Poker Ride for Life - Sackets Harbor, NY
June 26th 2004 -
Of course the NCAC welcomes any assistance in the form of volunteer work, donations or just in spreading the word. If you would like to help out in this way contact us (see below).
Since TC is such a rare cancer, there is very little support locally (and nationally) for this disease. National organizations like the American Cancer Society, and the Lance Armstrong Foundation help on a National level, but little is being done on a local (North Country perspective). The NCAC was started with local issues and concerns in mind.
The NCAC is an organization founded by survivors of TC. Its main goal is to educate young men on TC awareness, as well as provide a support group for men who have or are survivors of the disease
NCAC
Jeff Wood
16260 Ives Street Road
Watertown, NY, 13601
315-788-5228

Jeff is a member of the Peloton Project , the Peloton Project is the Lance Armstrong Foundation's major grassroots fundraising and outreach project. Comprised of cyclists, cancer survivors and other volunteers who want to make a difference in the cancer survivorship community, members raise funds and awareness for the LAF in their local communities.
The LAF is working to identify and improve cancer survivor services and facilitate the delivery of those services—and a large dose of hope—to the patients, their families, and other loved ones touched by the disease. The money you donate to the Peloton Project will help the LAF continue to aid those affected by cancer through programs, advocacy, research and survivorship support.
You can make an instant and secure online donation on the Foundation's website by going here . If you prefer to send a check or money order, please make your check out to the Lance Armstrong Foundation, put Jeffrey A. Wood in the memo portion of the check, and fill out the attached donation form before sending it to the address provided. If you have any questions, please contact Jeff at 315-788-5228 or the Lance Armstrong Foundation at (512) 236-8820, or visit the LAF website at www.laf.org, to find out more about the Foundation and the great cause your donation supports.